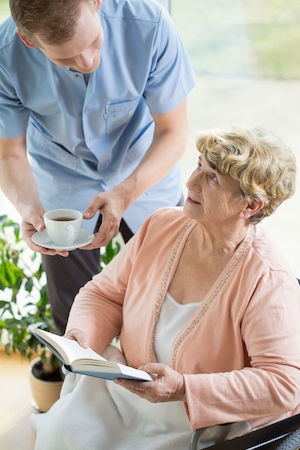 Choosing the right home health care agency for seniors is an important decision. You want to make sure that qualified, professional and experienced caregivers, nurses and therapists are taking care of mom and dad. Whether you, or a loved one, are recovering from a hospital stay and only need short-term nursing home care, or you are looking for a caregiver to help with everyday tasks, here is a list of questions that you need to ask when picking the right home health care agency.
Eight questions to ask your home health care agency:
1. How many years have you been in business?
If the agency has been in business for many years, it's a good indicator that they are successful. They've likely sustained and grown over the years, because they have a good track record. Especially when it comes to home care for seniors, news about bad customer service experiences spreads quickly.
2. Do you have any references from doctors, social workers, clinicians or nurses?
Good home health care agencies will be able to provide references from clinical professionals in the community. Your doctor or hospital nurse might recommend a home health care agency that is affiliated with their hospital or healthcare network. Keep in mind, you don't have to follow their recommendation. In fact, if you do a little research on your own, you may find private home health care agencies in the community that are less expensive and offer the same, or even better quality care.
3. Research their reputation
Ask your friends, family, coworkers and healthcare providers about local agencies to see if they know anything about the ones you're researching. Next, look up reviews online. By asking around, you should get a feel for the agency's reputation.
4. What services do you offer?
Home care for seniors and patients discharged from the hospital varies greatly from family to family. In order to best meet your unique needs, it's a good idea to pick an agency that offers a wide range of services. That way, as your plan of care changes over time, you will be able to work with the same company, and the same people you trust, for years to come. Good agencies will offer: home health care skilled nurses, caregiving services, and therapy, including speech, occupational therapy and physical therapy. Some home health care agencies for seniors also offer medication delivery, transportation services, pet care, home modifications and other helpful services. When you need help, it's easier and more cost-effective to depend on a single agency who knows your family personally, rather than working with new and unfamiliar vendors.
5. How do you select your employees?
It's important that your home health care agency thoroughly screens their employees. They should also have the proper certifications, education, clean background checks and lots of experience. Good home care agencies will assign caregivers and nurses based on your family's unique needs and personality. For example, if your loved one suffers from Alzheimer's, then it's important to have a caregiver or nurse who is very familiar with the disease.
6. Are your workers insured and bonded?
Make sure that your home care agency properly insures their workers. This legally protects both you and the agency's staff.
7. Will I have the same caregiver regularly?
Good home care is continuous, regular and familiar. It's hard to deliver great care if there is a different person meeting with the client each week. Then again, one benefit of using a home care agency over a contracted caregiver, is that they have skilled and professional backups. If your regular caregiver has an unexpected emergency, the agency will make sure your needs are still met.
8. Do you visit the home beforehand?
High quality home care companies will visit your home to help determine the best level of care for your family. This helps them individualize your care plan, assign the right staff accordingly, and begin to build a trusting relationship with your family.
Do you have a question about home health care? At Generation Solutions, we offer home health care for seniors in Lynchburg, Roanoke and surrounding areas throughout Central and Southwest Virginia.