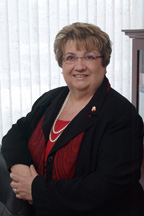 Sue Irvine, R.N.
Compliance Officer
Originally from Clifton Forge, Virginia, Sue is married to Larry and has three (3) grown children and two (2) grandchildren. Sue is a "Chessie" nurse, having graduated from the Chesapeake and Ohio School of Nursing.
Sue has over thirty (30) years nursing administration experience in Long Term Care (LTC) and Geriatrics. Prior to coming to Generation Solutions, Sue was instrumental in designing and opening two local nursing and rehabilitation facilities. She has also worked for the state and federal government, both as a Director of Nursing and health careers instructor.
Throughout her career, Sue has focused on improving, designing and implementing quality care processes and programs to facilitate the delivery of exceptional outcomes for patients. Shortly after joining Generation Solutions in 2004, under Sue's leadership, Generation Solutions Home Health received the distinction of being named one of the 2006 Top 100 Home Health Agencies in the nation. Sue has also led the agency in the Home Health Quality Improvement National Campaign in 2006, 2008, and 2012.
Sue is an active member of (VAHC) Virginia Association of Home Care and is currently:
A Certified Home Health Clinician
One of 30 certified Chronic Care Self Management Trainers in Virginia