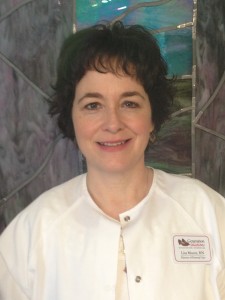 Lisa Moore, R.N.
Client Care Manager - Lynchburg
Lisa is originally from Danville, VA and has resided in Lynchburg for 31 years. She is married to Tommy Moore and has two wonderful sons.  She received her nursing degree from The Memorial Hospital School of Nursing in Danville, VA. Lisa is also a Certified Massage Therapist and received her Diploma from Virginia School of Massage in Charlottesville, VA.
Lisa has 35 years nursing experience and 18 years massage therapy experience.  Her nursing practice includes orthopedics, home health/personal care, and chronic pain management. She was also the director of Natural Touch School of Massage in Lynchburg for 3 years.
Lisa believes in a holistic approach to the delivery of nursing care. She is mindful that we are mind, body and spirit and the "whole" person must be cared for to maintain optimum wellness and contentment.